Clytus Gottwald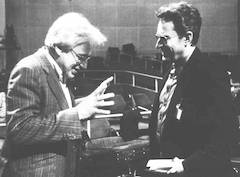 Clytus Gottwald was born at Bad Salzbrunn/Silesia on Nov 20, 1925. He studied singing with Gerhard Hüsch and choir directing with Kurt Thomas, and musicology at the universities of Tübingen and Frankfurt, with sociology and Protestant theology as subsidiary objects.
In 1961 he received the doctorate at Frankfurt under Helmuth Osthoff with a dissertation about the old Dutch composer Johannes Ghiselin-Verbonnet. 1954-58 assistant to the French chorus conductor Marcel Couraud. 1958-70 cantor at St. Pauls in Stuttgart. In 1960 he founded the Stuttgart Schola Cantorum which he has led to international reputation in the performance of avantgarde vocal-music.
Many composers wrote music for the Schola Cantorum: Boulez, Ligeti, Schnebel, Kagel, Lachenmann, Holliger, Globokar, Penderecki, Steve Reich, Grisey, Ferneyhough, Zender and others. In 1968 he became adviser for temporary music at the Radio in Stuttgart. 1985 Professor. He resigned his radio job in 1988, and the activities of the Schola Cantorum have been given up in 1990 after a tour in the former Soviet Union. In 1974 Boulez selected him for the planning group of the IRCAM at Paris. From 1961 up to this day Gottwald is scholar of the Deutsche Forschungsgemeinschaft (principle investigation domain: music palaeography). Numerous catalogues, books and other writings. Posthumous works (scores, manuscripts, letters) in the Paul Sacher Foundation at Basle.
Catégorie: Liens, Interprètes
---