Thomas Kessler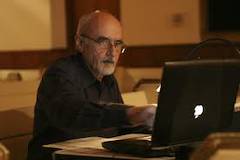 Compositeur
Thomas Kessler was born in 1937 in Zurich. After studies in German and Romanic linguistics at the Universities of Zürich and Paris he studied composition with Heinz Friedrich Hartig, Ernst Pepping and Boris Blacher in Berlin where he founded his own electronic studio in 1965.
In the following years he was director of the Berlin Electronic Beat Studio and musical director of the Centre Universitaire International de Formation et de Recherche Dramatiques in Nancy. From 1973 until 2000 he taught composition and theory at the Basel Music Academy and created the well-known electronic studio there. Together with Gerard Zinsstag he founded the festival "Tage fuer Neue Musik" in Zurich and the live-electronic music festival "ECHT!ZEIT" with Wolfgang Heiniger in Basel.
As a composer of numerous instrumental chamber music, orchestral music and live-electronic music compositions, he is interested in the interactions between musicians and electronics. Thomas Kessler lives in Basel and Toronto.
Catégorie: Liens, Compositeurs
---